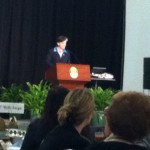 We recently had the pleasure of co-sponsoring and attending the 2nd Annual Women's Leadership Conference here in Myrtle Beach, put on by our very good friends over at Coastal Carolina University. And what an inspiring couple of days it was! The energy, enthusiasm and real-life experiences shared over this two-day event by an amazing group of speakers from every professional walk of life was ubercontagious to say the least and super motivational.
It was particularly inspiring to see such great conference turnout and the interest in leadership and service taking root in our own backyard. It seems especially fitting to note here that Sheriar Press was co-founded by a woman 41 years ago, Sheila Krynski. And, also, to recognize the achievements of one of our own conference attendees, Trish Sports, whom as many of you may know has managed Sheriar Press for the last 10 of our award-winning years. Long the anomaly, Trish is now securely positioned as part of a growing trend of female leadership in the printing industry. Printing Impressions briefly touched on growing female leadership in the printing industry a few years ago in an article on PIworld.com. And coming in May, Heidelberg is hosting an international networking meeting, "Women in Print", in support of this trend at Drupa – the world's largest printing technology and equipment expo held every four years – in Düsseldorf, Germany.
Be it on a global or regional level, Sheriar Press is pleased to be a part of women's leadership initiatives. Forward. Thinking. is our culture. And as such, we encourage everyone, regardless of gender, to seek what inspires, to be inspired to lead, to choose to serve, and to make a difference. In whatever way you can.